Fabrication Services for Oil Refineries
Overview of Services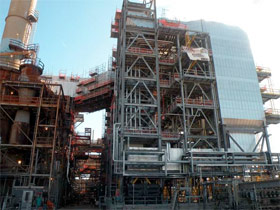 CPF Produced the Select Catalytic Reducer
for an Oil Refinery in Baytown, Texas
CPF recognizes that a new generation of strict environmental regulations regarding Sulphur and Nitrogen emissions requires state-of-the-art selective catalytic reduction (SCR) for combustion-related oil refineries. CPF is a North American leader in the fabrication of SCR's for the oil refinery industry, therefore your technology specifications and designs are executed by CPF's experienced project management teams from general arrangement drawings, fabrication, and field erection drawings. Over the past 10 years, CPF has supplied SCR fabrication projects destined for several industry leaders throughout the USA including: Conoco Phillips, Exxon Mobil, Husky Energy, Sunoco and Valero Energy.
CPF's lean manufacturing approach, attention to detail and rigorous project management has earned us the reputation as a Preferred Fabricator for:
Selective Catalytic Reduction (SCR)
Balance of Plant Ducting
Flow Screens and Straighteners
Catalyst Guide Frames and Carts
Structural and Access Steel
Browse our gallery of fabrication for oil refineries to see examples.
Cambridge Pro Fab advantages and services include:
Provide various levels of industrial engineering based on customer and project specific requirements.
Providing detailed and timely project management services ensuring projects are completed on time and on budget.
Comprehensive trial-fit process that identifies and eliminates potential assembly issues which results in more efficient field installations.
Providing quality levels which meet or exceed your specifications and expectations.
The ability to engage in multiple projects ranging from minimal size scopes to varying degrees of large scale projects