Oil Refinery Fabrication Projects
Experience Counts
Cambridge Pro Fab Inc. is a North American leader in the fabrication of SCR's and associative ducting, often exceeding client's specifications & expectations.
CPF has extensive experience fabricating and trial fitting SCR's and ducting for projects all over North America. Our facilty includes over a 50 ton crane capacity with 25 feet under the hook and over 250,000 square feet of indoor space. Utilizing 3D software we can help identify possible interferences and confirm connecting interfaces for each duct. Our teams of Project Managers & Detailers can provide engineering support from start to finish.
Oil Refinery SCR

Baytown, TX, USA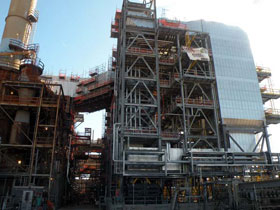 The SCR for Baytown Texas Oil Refinery was fabricated by CPF in Ontario, Canada and utilized sub-contract partners in Texas for oversize components.
Browse our Oil Refinery Project Gallery to see more samples of our work.