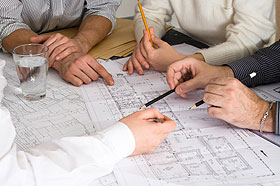 Dedicated project management helps CPF deliver excellence.
Project management is critical: CPF has built a significant portion of its reputation on its expertise in planning, organizing, monitoring and delivering large projects, often several at one time.
CPF has systematized a flexible and rigorous process for handling any size fabrication job to guide it from kick off meetings, to purchase order, to shipment and installation. A critical stage in our project management strategy includes an initial manufacturing and engineering consultation meeting with our clients to discuss the scope of the project, layout a detailed manufacturing plan, determine any critical component areas, and review quality specifications and expectations.
Recognizing that every project has its own nuances and particular demands, CPF's project management approach assures open lines of communication with clients through precise weekly schedules that keep them updated on the progress and development of their projects. Working with clients, CPF establishes set procedures to ensure the successful implementation and completion of their project each and every time. For similar projects, optimization plans can be developed in order to facilitate improvements in fabrication, design and drawing standards, parts libraries and scheduling procedures. De-briefings on completed projects are conducted by CPF staff to ensure client satisfaction.
CPF specializes in large-scale metal fabrication for: