Natural Gas Power Plant Projects
Experience Counts
Cambridge Pro Fab has been fabricating Gas Turbine ducting and equipment for more than 20 years. Our knowledge of GT Auxiliary fabrication allows us to: expedite our shop fabrication drawings, foresee structural interference, and fabricate in a timely manner while still meeting all of our clients budget and quality requirements.
Gas Turbine Exhaust Stacks

Newmarket, Ontario, Canada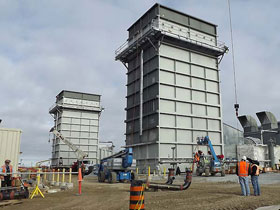 The Once Through Steam Generator with Silencing Exhaust Stacks was installed at North York Energy Station in Newmarket, Ontario. Cambridge Pro Fab's scope of supply included the Exhaust Stacks and 409ss Upper Exhaust Baffles.
Gas Turbine Steam Generator

Greater Toronto Airports Authority, Ontario, Canada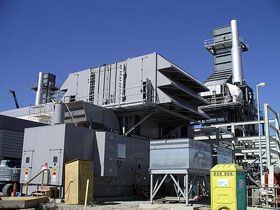 The Once Through Steam Generator installed at the Toronto Pearson Airport to make the airport self sustainable. This unit produces 75 MW of power, while the total airport consumption is 38 MW. CPF's scope of supply included the filter house, silencer and baffles, project management and detail drawings.
CPF has fabricated GT Auxiliary Systems for numerous sites in the USA, Canada and abroad.
Browse our Natural Gas Project Gallery for more samples of our capabiltiies.