Coal Power Plant Fabrication Projects
Experience Counts
Cambridge Pro Fab Inc. is a North American leader in the fabrication of SCR's and associative ducting. Our extensive knowledge of fabrication has allowed us to: expedite our shop fabrication drawings, foresee structural interference, and fabricate in a timely manner while still meeting all of our clients budget and quality requirements.
Coal Power Plant

Juliette, Georgia, USA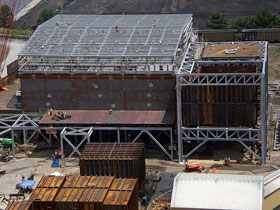 The baghouse project shown for Southern Company, was fabricated by CPF in Ontario, Canada and truck shipped in panelized form to site for erection. After 20,000,000 lbs of fabrication and 600 shipments, site issues were minimal and amounted to less than 0.01% in backcharges.
We are fabricators with a proven track record of minimal field issues due to our commitment of trial fitting components prior to shipment to site. Our aggressive approach to processing projects with compressed lead times is Cambridge Pro Fab's signature trademark.
Browse our gallery of fabrication for coal power projects to see more examples of our work